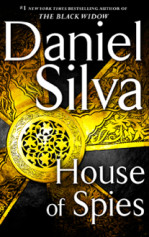 I knew the question was coming.
I was at lunch with an attorney who is an old friend. Both of us are fans of Daniel Silva's novels, particularly the Gabriel Allon series.
But due to other reading demands, I have lapsed. The last one I read was The English Girl. I've read all of the novels prior to that one. My guess was that I'm down two books but a review of the site reveals that I have not read The Heist, The English Spy, The Black Widow, and House of Spies.
He gave me a copy of House of Spies and asked if I am up to date on the series.
There was much hemming and hawing and gnashing of teeth before one word emerged: "No."
The gap will be filled. The practice will be revived. A promise has been made.
There is a report that the books might be turned into a film series. He already knew that. We discussed casting for the main roles.
If you are a fan of the series, you'll know how important that will be. Casting the right actors for Gabriel Allon and Ari Shamron alone will be vital.
As for myself, I need to read The Heist before our next lunch.
Update: The casting debates have begun on Facebook.